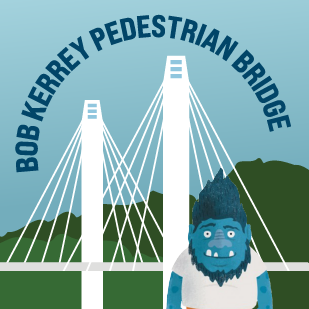 Bob Kerrey Pedestrian Bridge/OMAR
Welcome to the Bob Kerrey Pedestrian Bridge – but his friends call him Bob. He's so much fun to hang around with! What's really cool is Bob has magical powers. When you're walking across Bob and you reach the middle POOF you're standing in TWO states at the same time.
What you may not know is that my big brother OMAR lives under Bob the Bridge. OMAR loves to take pictures with his friends and if you rub his toe, your WISH will come true! That's why I love my big brother. He's so nice. We sit around and play troll games, but then I take off to keep exploring all the fun places in Omaha.
Visit Omaha Attractions, Collect Pin Buttons, and Pick Up Your FREE Backpack
At each of your stops, the friendly staff will give you a super special OMAI button to remember me by. At any point during your adventure, stop by the Omaha Visitors Center and get a backpack just like mine. Pin all of your buttons onto the backpack and keep on searchin' for me!
Omaha Visitors Center