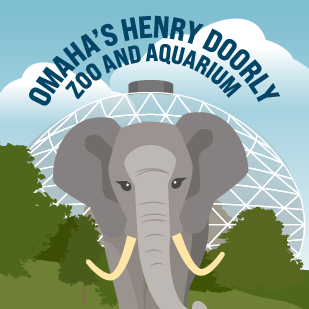 Omaha's Henry Doorly Zoo & Aquarium
WOW! Omaha's Henry Doorly Zoo & Aquarium really is the best zoo in the whole wide WORLD! Did you know they have the world's largest indoor desert, under the world's largest geodesic dome, next to North America's largest indoor rainforest? It's an adventure and I love making new friends!
Can you guess what my favorite animal is? I'll give you a hint: they're really BIG!
Look for me where the elephants are – if you see them together, that means I'm not far! Maybe I'm hiding in their herd.
Visit Omaha Attractions, Collect Pin Buttons, and Pick Up Your FREE Backpack
At each of your stops, the friendly staff will give you a super special OMAI button to remember me by. At any point during your adventure, stop by the Omaha Visitors Center and get a backpack just like mine. Pin all of your buttons onto the backpack and keep on searchin' for me!
Omaha Visitors Center