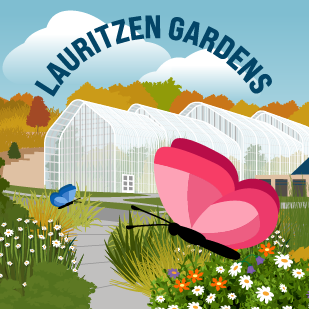 Lauritzen Gardens
Ahhhh… Lauritzen Gardens is the perfect place to take a rest. The conservatory is the best! There are plants I've never ever seen before. I love all the colors and watch for super fun displays throughout the year – sometimes made of flowers, LEGOS and more.
I like to visit the Model Railroad Garden, the trains travel through a mini Omaha – I like to imagine that I'm riding around yelling "Choo-Choooo!"
Visit Omaha Attractions, Collect Pin Buttons, and Pick Up Your FREE Backpack
At each of your stops, the friendly staff will give you a super special OMAI button to remember me by. At any point during your adventure, stop by the Omaha Visitors Center and get a backpack just like mine. Pin all of your buttons onto the backpack and keep on searchin' for me!
Omaha Visitors Center